1. Undying Hope now has an official Houston address, both street address and P.O. Box: 
Undying Hope International
17119 Red Oak Dr.
Houston, TX 77090

or
Undying Hope International
P.O. Box 90120
Houston, TX 77090

2. Undying Hope now has its unique phone number
(832) 412-8668

3. You can donate through any of the three methods:
Thank you for your continued prayers, support, and generosity!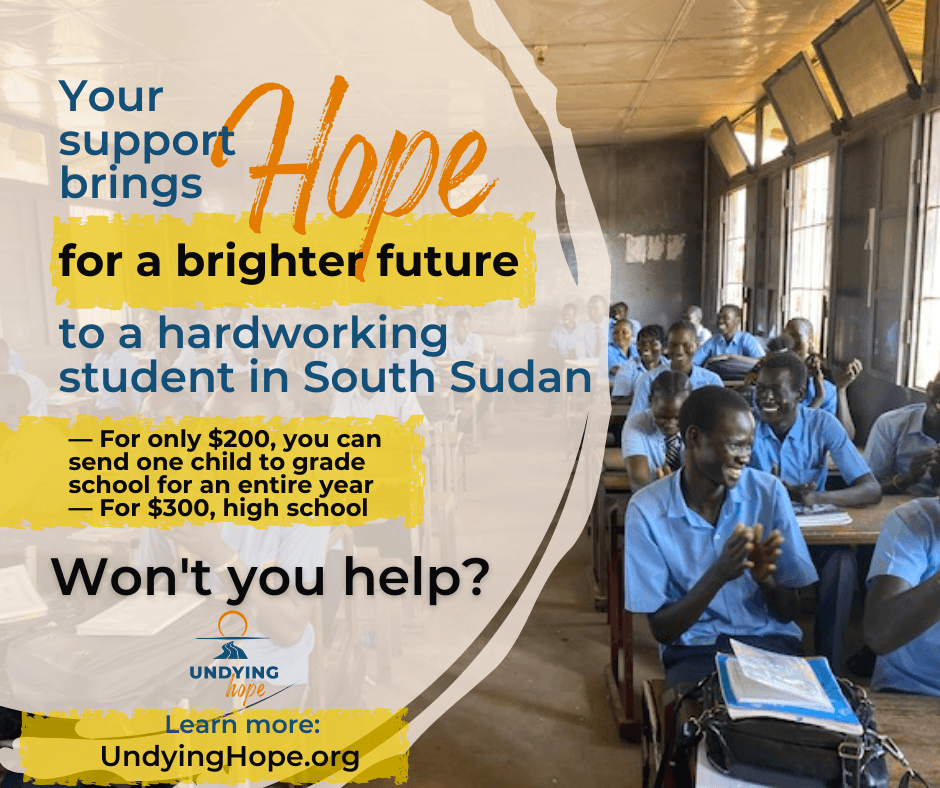 Why am I about Undying Hope 2022 Student Scholarship Program?
Growing up in Khartoum, I used to sell candies (sweets), peanuts (madamas), biscuits, among others, in my neighborhood to buy school uniforms, pay any required school fees, and often help at home as needed. Basically, I know what it takes to stay in school. The rest is history!

Given the current high unemployment rate and deteriorating economic condition, countless students can't even sell candies as I used to do. It's a different dynamic and context.

As I write this Facebook post, there could be students in South Sudan who are on the verge of dropping out of school this year because they can't afford tuition (school fees) due to economic hardship, disability, and every circumstance in between.

This year, Undying Hope desires to provide scholarships to 100 South Sudanese students, especially the less fortunate segment of our population.
Thankfully, we are more than halfway into reaching our goal.

All details are on our website. Check it out here!

Would you join me by supporting this scholarship initiative?

If you feel led to support this noble cause, please help. Your support brings hope for a brighter future to a hardworking student in South Sudan. Every dollar brings us closer to reaching our goal by May 2022 and makes a huge difference!

Together, we can help solve the illiteracy rate through education. Every penny counts, and every dollar makes a difference.
Undying Hope International is a 501c3 nonprofit organization. Donations to Undying Hope International are tax-deductible to the fullest extent allowed by law.
We are making progress, one step at a time!