From the Desk of Theil: Compassion Lifts Clouds of Uncertainty
Poverty-stricken populations lack basic necessities and experience unbearably painful and cloudy life. Feelings of helplessness and hopelessness intensify when we face challenges and difficulties beyond our control and ability. In the valleys of life, vulnerable people hope and pray for compassionate hearts to rescue them. The utmost desire at this low stage is a desperate need for love and rescue, a need for a helping hand that says, "It is going to be ok!" In his article Compassion in Disasters, Dr. Addiss (2019) reported, "In disasters, many of those affected depend on compassion for their very survival" (Addiss, p. 43).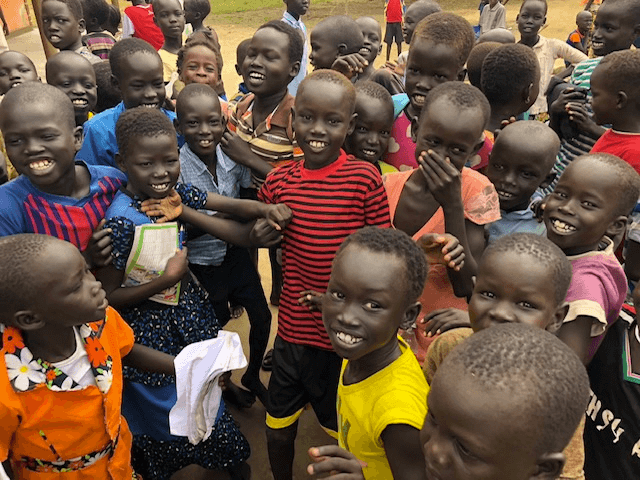 Growing up during the Sudan civil war, I remember the deep excitement everyone felt in Aweil when rare humanitarian planes landed at the Aweil tiny airstrips, or vehicles and trains occasionally entered Aweil bringing food and other necessities, especially during famine season. Aweil is a city in South Sudan where I was born and spent most of my childhood. Offering assistance such as food and clothes to families, clean water to vulnerable communities, medical services to sick people, toys to kids, or education materials to students means everything for underserved and disadvantaged families and communities in South Sudan and beyond. This act of compassion lifts the clouds of uncertainty and temporarily alleviates people's suffering.
Moreover, compassionate love and action ignite hope, faith, and belief. The Bible includes a plethora of verses on love and compassion. As a person of faith, I believe Jesus Christ is the most compassionate and loving person the world has ever seen and known. He is God incarnate who came down to earth to reconcile us to God (2 Corinthians 5:18), to give us hope for everlasting life (1 Peter 1:4), and to teach us to live by faith (Hebrews 11:1). Jesus demonstrated Agape Love in words and deeds on the Sermon on the Mount (Matthew 5). He fed the hungry, healed the sick, hung out with the poor, and taught message of God's kingdom. Jesus' saving mercy and compassionate action ignited His teaching on hope, faith, and belief. Compassion and loving hearts coupled with action undoubtedly give hope, save lives, unleash potential, put a smile on people's faces, and make our beautiful planet earth a better place for all inhabitants.
Compassion is one of Undying Hope's core values because it bolsters Undying Hope's mission and gives meaning to its operations in South Sudan and beyond.
Delivering services in places like South Sudan requires compassion to transform lives and make an impact. Like other underdeveloped nations, South Sudan needs quality education, a key that would save South Sudan from lagging behind the rest of the world. There is no development without quality education. Badmus and Jita (2022) argued that "Africa has been associated with a significant skills shortage, a problem that can only be improved through quality STREAM education." (p. 40). STREAM stands for Science, Technology, Robotics, Engineering, the Arts, and Mathematics. To achieve this seemingly far-fetched dream, people who are translating the Undying Hope vision on the ground must be compassionate, skillful, and able to cooperate and collaborate with all actors working to enhance South Sudan education and contribute to nation-building. Undying Hope cannot solve all South Sudan's problems. However, through concerted efforts, intentionality, and the generosity of friends and family, Undying Hope can lift some clouds and pave the way for the foreseeable future. Tools and resources Undying Hope provides through education will undoubtedly transform many lives and make a difference. 
Cordially,
Theil T. Theil
President and Co-founder
Undying Hope International, Inc.
South Sudan & Beyond
---
References
Addiss, D. (2019, November-December). Compassion in disasters. Health Progress: Journal of the Catholic Health Association of the United States. https://taskforce.org/wp-content/uploads/2019/11/Addiss-Compassion-in-disasters-1.pdf
Badmus, O. T., & Jita, L. C. (2022). What is next for Africa's youthful and useful population? STREAM education for global inclusivity. Journal of Culture and Values in Education, 5(2), 10. https://doi.org/10.46303/jcve.2022.18
King James Bible. (2021). King James Bible Online. https://www.kingjamesbibleonline.org/ (Original work published 1769)