---
Dear family and friends of South Sudan,
Happy South Sudan's 10th Independence Anniversary! On this day, 10-years ago, South Sudan gained its independence from Sudan and became a sovereign nation. Unfortunately, soon after that, South Sudan plunged into two deadly wars, economy plummeted, educational index fell far behind the world, health conditions deteriorated, famine widespread, and vision became fuzzy. That said, the people of South Sudan showed resilience through it all and are keeping hope alive for a better tomorrow. Most South Sudanese believe that education is the key to getting unstuck from such desperate conditions. That is why Undying Hope's vision is critical, timely, and desperately needed. 
---
Restaurant Fundraiser Reminder:
I wanted to remind you of the soon-approaching Killarney House Fundraiser. It's a FUN way to support a life-transforming vision like Undying Hope. 
---
When: Tuesday, July 13
Where: Killarney House, Davidsonville, MD
Contact Info: Make your reservations by calling 410-798-8700
---
Killarney House is a great local restaurant located in Davidsonville, Maryland. The fundraising is simple – grab your family and friends and come enjoy a three-course prix fixe menu. Killarney House then donates $10 back to Undying Hope for every meal served. When you arrive, just let them know that you are here for the UHI fundraising dinner. See the delicious menu attached. If you prefer, you can also order this menu for takeout!
For more information about Undying Hope, please read here: https://undyinghope.org/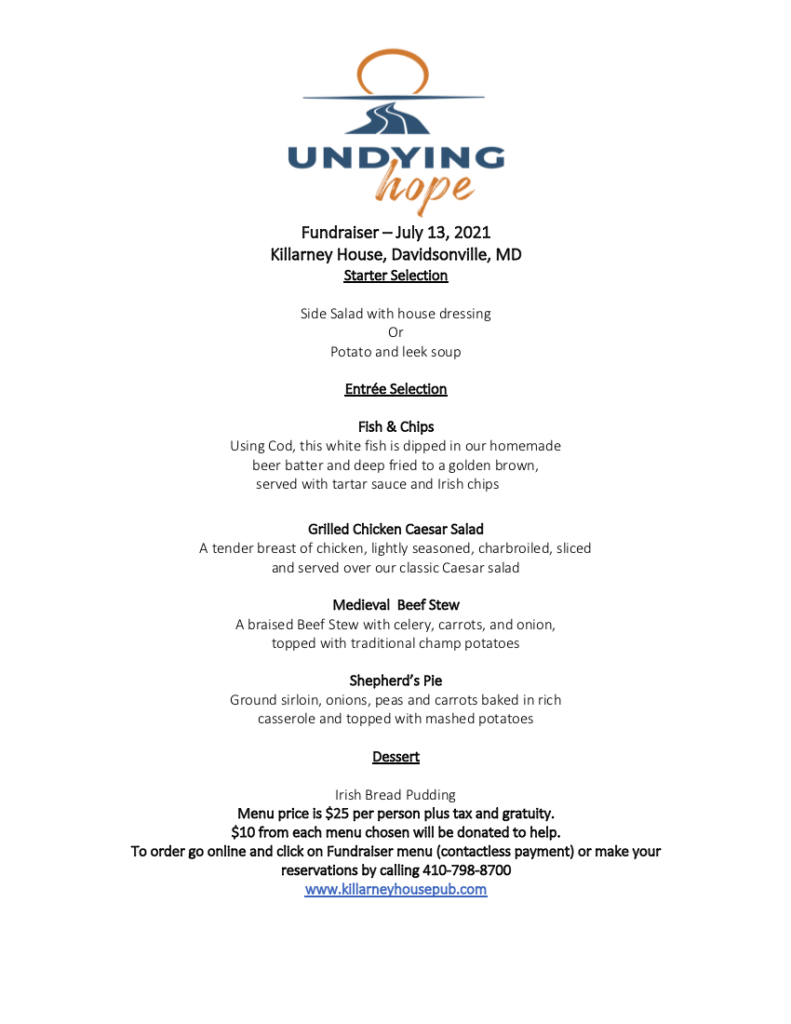 Seeds of Hope Update:
With profound gratitude, I wanted to thank you on behalf of Undying Hope leadership for your financial support toward the Seeds of Hope fundraising campaign. We have raised funds sufficient to dig a well (borehole), plant 100 trees, and hire a groundkeeper to guard our property in South Sudan, keep trees healthy, protect the borehole, among other responsibilities. We could not have reached this far without your continued prayers, support, and generosity. Super exciting!
---
Public Speaking Engagement Opportunities:
If you have or know of any speaking engagement opportunities, please don't hesitate to let me know. I desire to share my story of undying hope, courage, and resilience with the schools, churches, organizations, radio stations, social media, groups, families, individuals, and so forth.
Last week, I was the keynote speaker at the World Refugee Day event. This week, I will be in South Carolina. I have been invited to share my story there. More of such speaking engagement opportunities will make Undying Hope discoverable and make an impact.

Once again, thank you for your continued support and prayers. Thank you for being a part of Undying Hope's vision. Together, we will transform lives and make a difference.

Until next update, take care of yourselves and each other

Theil